Pneumatosis cystoides intestinalis
A 70-year old woman came to our hospital fof diarrhea and melena. Her diagnosis was "pneumatosis cystoides intestinalis" which is very rare disease. There has been no effective therapy for this disease. Colonoscopy is shown below. Many cystoes and bleedings were seen.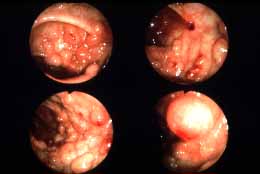 We prescribed Ci plus Pa Rhe-supo plus Na to her. She got well very much. The colonoscopy 6 months later is shown below. There has been no relapse since then.